Andrew H. Weinstein,M.D. named President of the Florida Society of Dermatologic Surgeons.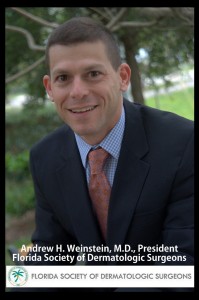 Dr. Weinstein will work closely with other board members to promote the highest possible standard of dermatologic surgery, provide continuing education for the purpose of ensuring the highest professional quality of dermatologic surgery, provide a forum for the exchange of ideas & methodology for dermatologic surgery & related basic sciences, and to recognize those physicians who have become proficient in dermatologic surgery.
It is an honor to call him part of our Boynton Beach Skin family.
Congratulations Dr. Weinstein from all of us at Boynton Beach Skin!!