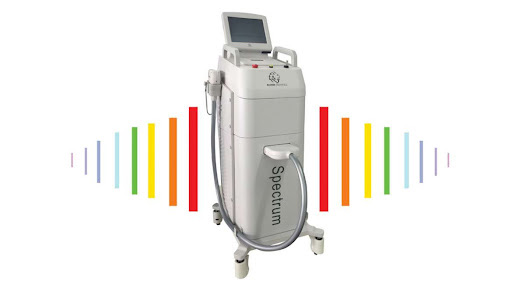 Our Technology
THE SPECTRUM LASER PROVIDES EFFICACY AND VERSATILITY LEAVING PATIENTS WITH HEALTHY AND MORE YOUTHFUL SKIN
INTENSE PULSED LIGHT (IPL)
Uneven skin tone is a common aesthetic problem we all notice as we age especially if we have an active lifestyle out in the sun. After years of unprotected sun exposure, you will notice brown spots, freckles, sunspots. You may also notice unwanted vessels around your nose or rosacea on your cheeks. These common concerns can now be removed, and you can reveal your glowing complexion with skin revitalization.
Skin revitalization is ideal for reducing the appearance of pigment on your face, chest or hands including age spots, sun damage, freckles, or birthmarks. It is also the perfect solution for unwanted vessels on your face including spider veins, broken vessels, or rosacea (redness/flushing of the cheeks). In just a few quick treatment sessions you will see a reduction in the appearance of brown spots and vessels leaving you with a more even skin tone and beautiful looking skin.
 LONG PULSED YAG LASER
Why suffer needlessly with unsightly veins on the face and legs? This is the answer for those annoying and painful leg veins. The YAG energy from this laser causes blood vessels to heat up, break open, and collapse, thus removing them. It can be applied to veins smaller than 3 mm on the face and legs, and all the veins are naturally reabsorbed by the body. While the laser is working, one can see the vessels disappear! Other vascular lesions such as a cherry angioma can also be removed with the Long Pulsed Yag.
ERBIUM YAG LASER
Skin Resurfacing/Wrinkle Reduction/ and Scar Reduction: Erbium is the treatment of choice for patients wanting to achieve dramatic improvement in the appearance of their skin with minimal downtime. The procedure removes surface-pigmentation and mild to moderate fine lines and wrinkles on the face, hands, neck, and chest. It also improves the appearance of scars. The erbium laser combines effective and dramatic improvement in skin condition with minimal downtime.

REPAIR YOUR SKIN FROM THE INSIDE OUT WITH FRACTIONAL LASER RESURFACING
The Matrix CO2 Fractional Laser Therapy helps minimize wrinkles, sun damage, discoloration, and scarring all while helping increase collagen production through its revolutionary fractionated CO2 technology. Unlike traditional CO2 laser resurfacing, the Matrix CO2 laser resurfacing has more manageable downtime and manageable sensation during the treatment. This is an effective treatment for both men and women and excellent results can be obtained in as little as one or two treatments.
Conditions Treated:
Age spots
Fine lines
Wrinkles
Certain types of scarring
Skin discoloration
Uneven texture
Uneven Skin tones
Aging skin
How It Works?
The high-speed Ultrafine Fractional scanner will direct a grid pattern of tiny pulses of light called MicroAblative Columns (MACs) at the skin. Each MAC delivers a column of energy that can reach the skins dermal layer while preserving the untreated skin in between the columns. This process promotes rapid healing and stimulates a natural renewal process of the body's own collagen.
What Areas Can Be Treated?
The Matrix CO2 Laser Skin Resurfacing can be performed on numerous areas of the body including the face, neck, chest, hands, and arms.
What To Expect
In most cases the actual laser treatment time takes less than 30 minutes, but the time will depend on the area(s) of the body being treated.
The treatment has minimal discomfort with the use of a topical anesthetic and there are fewer side effects.
Schedule a consultation and learn more about fractional rejuvenation for non-surgical skin rejuvenation that targets skin imperfections at the source for improved appearance from the inside out.
Services we offer include: